Liner Notes for "Table for One" (2000)
(Use your browser's "Back" button to return)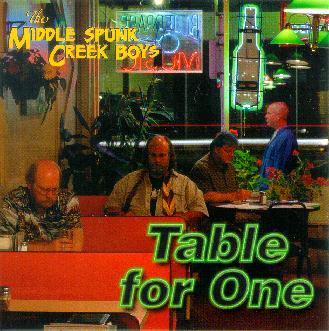 Released as "Okey Dokey Records" MSCB004
The Middle Spunk Creek Boys is a band with a history of more than thirty years of sturdy Mid-America bluegrass music-making. One reward for this longevity is that it allowed them to develop and become comfortable with their musical personality. This maturity gives the band the freedom to forego worries about "licks">
Liner Notes for "Table for One" (2000)
(Use your browser's "Back" button to return)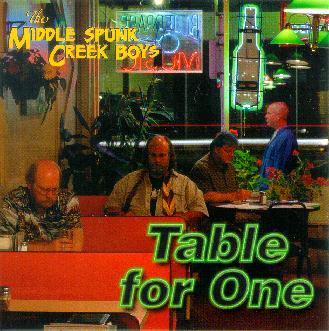 Released as "Okey Dokey Records" MSCB004
The Middle Spunk Creek Boys is a band with a history of more than thirty years of sturdy Mid-America bluegrass music-making. One reward for this longevity is that it allowed them to develop and become comfortable with their musical personality. This maturity gives the band the freedom to forego worries about "licks," hurrying through the music, or great first impressions. It frees them to concentrate on meaning and content, a great place to be to make music.
The Middle Spunk Creek Boys have taken full advantage of their position, putting together a package of songs and musical arrangements that offer a mature musical perspective, a rare occurrence in bluegrass music. The band comfortably and naturally offers songs with traditional themes of love and love lost, as well as contemporary issues often ignored in bluegrass music. The majority of these songs come from the fertile minds of the band members, another indicator of the their stong sense of themselves.
The music of the Middle Spunk Creek Boys comes from a world-wise place that can only be gotten to over time.
Alan Munde
Recorded and Mixed at POD Studio, Minneapolis MN by Leo Whitebird. (Couldn't have done it withoutcha.)
Mastered at Wild Audio, Minneapolis MN by Doug Wild.
Cover photo by Jerry Flynn with Barb Ayres on cable release.
Liner photos by Bruce Jaeger
Design by Greg Johnson Design; Design concepts by Bruce Jaeger and Jerry Flynn.
Thanks to:
Kathy, Laura, Leslie and Sharon for even more support and patience than last time. Lloyd (that's LLOUD) LaPlante of Grand Rapids, MN for Bruce's mandolin, Mark's mandola and dreadnought and the setup of Alan's guitar, the folks in Nazarath PA for Mark's OO-18 and Alan's D-28; Lonnie and Monty Dulono of Dulono's Pizza (Home of the Tall Cool One and the Flat Round One) Minneapolis MN for the cover location; Ludwig Nesheim for the loan of the 5-string Dobro for "Roll on John." And to all the folks who came out to hear us and give us the strength to go on.

Note: All lyrics for Mark Kreitzer and Bruce Jaeger songs are available here.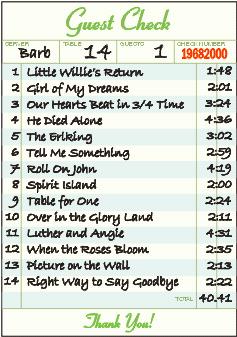 1 Little Willie's Return
(Mark Kreitzer, Harvest Hop Musik BMI)
Mark Kreitzer: Banjo, Fiddle, vocal
Alan Jesperson: Guitar
Bruce Jaeger: Mandolin
Jerry Flynn: Bass
2 Girl of My Dreams
(James Monroe & Jake Landers, Bill Monroe Music, BMI)
Alan Jesperson: Guitar, lead vocal
Mark Kreitzer: Banjo, baritone "ah"
Bruce Jaeger: Mandolin, low tenor "ah"
Jerry Flynn: Bass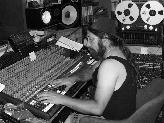 Leo Whitebird
3 Our Hearts Beat in 3/4 Time
(Mark Kreitzer, Harvest Hop Musik BMI)
Alan Jesperson: Guitar, lead vocal
Mark Kreitzer: Fiddle, Guitar (lead & rhythm), baritone vocal
Bruce Jaeger: Mandolin, low tenor vocal
Jerry Flynn: Bass

4 He Died Alone
(Mark Kreitzer, Harvest Hop Musik BMI)
Mark Kreitzer: Guitar (lead & rhythm, lead vocal
Alan Jesperson: Guitar, tenor vocal
Bruce Jaeger: Mandolin, baritone vocal
Jerry Flynn: Bass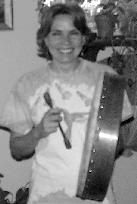 Robin Whitebird
5 The Erlking
(Steve Gillette - Cherry Lane Music Publishing Company, ASCAP)
(Original lyrics by Johann von Goethe)
Alan Jesperson: Guitar, lead vocal
Bruce Jaeger: Mandolin, tenor vocal
Mark Kreitzer: Banjo, Fiddle
Jerry Flynn: Bass
Special guest Robin Whitebird: Bodhrain
6 Tell Me Something
(Mark Kreitzer, Harvest Hop Musik BMI)
Mark Kreitzer: Guitar (lead & rhythm), Fiddle, lead vocal
Alan Jesperson: Guitar, baritone vocal
Bruce Jaeger: Mandolin, low tenor vocal
Jerry Flynn: Bass
7 Roll On John
(Traditional)
Jerry Flynn: Bass, lead vocal
Alan Jesperson: Guitar
Mark Kreitzer: Banjo, 5-String Dobro, Lead Guitar
Bruce Jaeger: Mandolin
8 Spirit Island
(Bruce Jaeger, Sogo Music BMI)
Bruce Jaeger: Mandolin
Mark Kreitzer: Mandola, Fiddle, Lead Guitar
Alan Jesperson: Guitar
Jerry Flynn: Bass
9 Table for One
(Mark Kreitzer, Harvest Hop Musik BMI)
Mark Kreitzer: Guitar (lead & rhythm), Fiddle, Banjo, vocal
Alan Jesperson: Guitar
Bruce Jaeger: Mandolin
Jerry Flynn: Bass
10 Over in the Glory Land
(Ralph Stanley, Zap Publishing Co., BMI)
Alan Jesperson: Guitar (lead & rhythm), lead vocal, tenor on trios
Mark Kreitzer: Banjo, lead vocal on trios
Bruce Jaeger: Mandolin, baritone vocal
Jerry Flynn: Bass
11 Luther and Angie
(Mark Kreitzer, Harvest Hop Musik BMI)
Mark Kreitzer: Guitar (lead & rhythm), Fiddle, Vocal
Alan Jesperson: Guitar
Bruce Jaeger: Mandolin
Jerry Flynn: Bass
12 When the Roses Bloom
(Mark Kreitzer, Harvest Hop Musik BMI)
Mark Kreitzer: Banjo, Fiddle, lead vocal
Alan Jesperson: Guitar, tenor vocal
Bruce Jaeger: Mandolin, baritone vocal
Jerry Flynn: Bass
13 Picture on the Wall
(Mark Kreitzer, Harvest Hop Musik BMI)
Mark Kreitzer: Guitar, vocal
Jerry Flynn: Bass
14 Right Way to Say Goodbye
(Mark Kreitzer, Harvest Hop Musik BMI)
Mark Kreitzer: Banjo, lead vocal
Alan Jesperson: Guitar, tenor vocal
Bruce Jaeger: Mandolin, baritone vocal
Jerry Flynn: Bass