| | |
| --- | --- |
| | |
| The Middle Spunk Creek Boys General Store | |
---
View more detailed descriptions (with song lists and links to liner notes)
We currently have five recordings out on CD (and some on cassette): "A House of Gold" (2002 Gospel), "Table for One" (2000), "No One Else" (1999), "I'm With the Band" (1993) and "The Middle Spunk Creek Boys" (1976).
Locally, the CDs are sold by The Homestead Pickin' Parlor. (And, of course, by the band wherever they perform.)
Online availability of Middle Spunk Creek Boys CDs
All of our albums and shirts are also available by mail from:
Middle Spunk Creek Boys
5721 39th Avenue S.
Minneapolis, MN 55417
612) 727-2489
AlenJes@gmail.com
(Great Northern Antiques. Prices include shipping. Minnesota residents add 6.5% sales tax plus the .015 stadium tax; that makes each CD exactly $16.00.)
| | |
| --- | --- |
| | If you are at all dissatisfied with any of our CDs, simply return the unlistened-to portion of the CD, and we will refund the unspent portion of your money! |



Tee Shirts and Sweat Shirts
"Dare to be Okey-Dokey!" Gold & Red on Black or Gold & Black on Red, 100% cotton shirts. Available in all of the large and "manly" sizes. $15.00 Short sleeve and long sleeve! High-quality sweatshirts in black or forest green are only $20.
Due to popular demand (it's twue, it's twue!), our "Dare to be Okey-Dokay" tee shirts can now also be ordered by telephone from Alan's business Great Northern Antiques.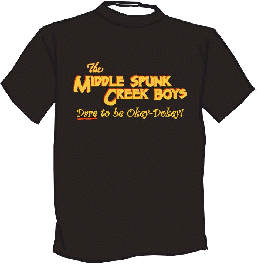 To keep your tee-shirt looking new, we recommend hand or machine washing on cold or warm water, not hot. Do not use liquid bleach or detergents with bleach. Air or line-dry only--drying with heat will shrink the shirt and damage the imprint. Do not iron or dry clean. Better yet, do not wear, but display in subdued light in an argon-filled case, with the votive candles at least six feet away.