45+ Years of the Middle Spunk Creek Boys
The Middle Spunk Creek Boys bluegrass band and Big Macs are both 40+ years old this year. Somehow, that seems more than appropriate.
The band was formed in 1968 when Alan Jesperson and Ron Colby invaded C. J. (Craig) Anderson's living room one day. Al had a guitar and mandolin, Ron and C.J. both had banjos. After a round of scissors, paper and stone, Al got to play guitar, and Ron the banjo. The loser, Craig, had to play the mandolin. (That tradition still holds true!)
After a few minutes of the relentlessly dedicated rehearsals that are still a hallmark of the band thirty-odd years later, the Boys got a gig at the famous 10 O'Clock Scholar Coffeehouse. You know, where Leo Kottke got his start. Actually, the gig was an open stage. But the band did play, and was even entertaining enough that the Boys were invited back again and again for real paying gigs.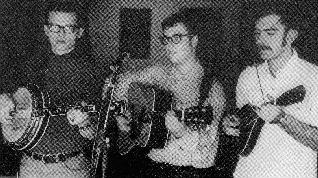 (Click here for larger 1444 x 808 file)
Rudy Darling was the first newcomer to join the Iron Three, adding the sound of a fiddle to the group. Craig left to be a private detective, and was replaced on mandolin by the young John Bellville, who had to get permission from his home-room teacher. Steve Block joined on bass. John got caught skipping classes, and had to go back to school. Ron Colby departed, to be replaced by the famous Al "Lightning Fingers" Struthers. (His fingers never touched the same place twice....)
Steve Block moved on and Jerry Flynn took his place on the bass, learning (as Steve had) that, while a bass is easy to hide behind, you can't run with it very fast. Then Peter Ostroushko joined so he could learn to play bluegrass mandolin, which took him roughly two weeks. After a spell, Peter quit for the glitzy life on the road with Dakota Dave Hull and others.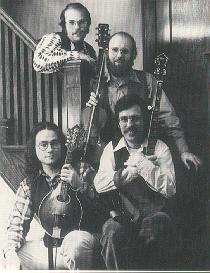 Alan Jesperson Rudy Darling
Peter Ostroushko Alan Struthers

In 1976 the remaining Boys recorded their first album before anyone else could quit.This album had no name, and therefore is called "The Middle Spunk Creek Boys." After selling out in its vinyl form, it has been re-released in CD and cassette.
The Boys at about the time of the first album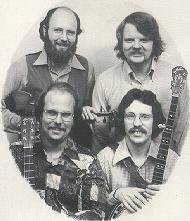 Rudy Darling Jerry Flynn
Alan Jesperson Alan Struthers
1978 (from the Prairie Home Companion website):
More collaboration with the St. Paul Chamber Orchestra, including the PHC-comrnissioned "Weaver's Song and Jig" by Libby Larsen for the Powdermilk Biscuit Band and Orchestra. In March, PHC moved to the World Theater on Exchange and Wabasha, St. Paul. Butch Thompson was joined often by Claudia Schmidt, Papa John Kolstad, the Chenilles, Bill Staines, Jerry Rau, and the Middle Spunk Creek Boys.
John Niemann joined, initially to play mandolin, although he is about one of the best fiddle players ever anywhere. Rudy moved to the California mountains to study wood ticks up close, and had to quit as the commuting back to Minnesota wasn't too practical. Mark Briere joined to play mandolin so that John wouldn't have to. Then Al Struthers left and was replaced on the banjo by Pete Anderson.
John moved (temporarily) to Alaska. Mark and Pete also quit, to be replaced by John Bellville (who hadn't learned his lesson the first time) on mandolin and fiddle, and Jim Tordoff on banjo. Andy Kozak bolted the Pocono Mountain String Band to bring his Dobro collection to the MSCB. John Bellville quit (for what he swears is the last time) to be replaced on mandolin and fiddle by Bruce Jaeger, who was still playing in the fading Buckacre. Jim Tordoff quit. Buckacre was raided for a final time for Barry St. Mane's banjo; we had to take Barry with it. Then Barry briefly moved to Colorado. Tom Nechville filled in for a year or so until Barry decided he liked it here better and moved back. This was in 1993, when we recorded "I'm With the Band."
Andy left, and the multi-way-too-talented Mark Kreitzer joined, initially on fiddle. When Barry left, Mark added banjo to his fiddle (and guitar) duties.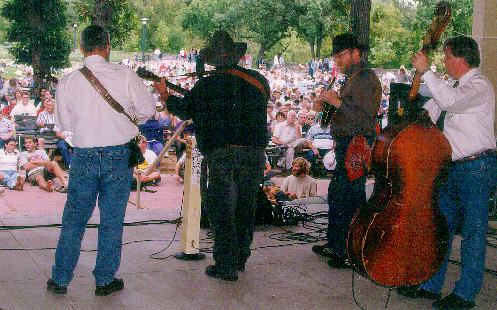 "Laughing Waters" Bluegrass Festival 1999
In 1998-1999 we recorded our third album, "No One Else." Of the 13 songs, nine are originals (eight by Mark); we refer to this as "Mark's Demo Album" when he's not around. When he is around, we refer to it as "Mark's Demo Album," just to show that we don't sneak around behind anyone's back. The national magazine "Bluegrass Unlimited" praised it very highly, giving it a "Strong Recommendation."
In 2000 we recorded our fourth album "Table for One." Like its predecessor, it's largely original material, with some selected songs by from the outside world. For this album, we played around with styles a bit more, using old-timey "frailed" banjo on two cuts, and a bodhran (Irish drum) on one cut.
In 2001, Jerry Flynn decided that 27 years was enough, and retired from the band. Mark drafted his classically-trained brother Chuck to play the bass; he was more used to wearing tuxedos to his performances, but the Boys quickly got him straightened out on that issue!
In 2002, the Boys ignored decades of fan pleading and released their first all-Gospel album "A House of Gold." It features Gospel songs from the "standard" bluegrass Gospel repertoire, plus two locally-crafted songs, "Alone With the Lord" by Leo Rosenstein and "Preachin' to Myself" by the first MSCB banjo player, Ron Colby. The title song is a wonderful number by Hank Williams Sr. The Boys are a full vocal quartet on most of the cuts, with Chuck Kreitzer supplying a powerful tenor and Bruce Jaeger adding a strong bass.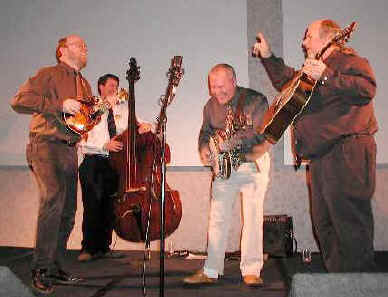 "Winter Bluegrass Weekend" concert, 3-2-2001
Chuck Kreitzer on bass

In 2004 the band held its 35th Anniversary concert, with appearances by almost everyone who'd been a member. Soon after, we released a DVD of the entire concert. It was videotaped by a single camera (with the sound off the mixing board) by our friend and unofficial band documenter, the late Larry Blokzyl.

In 2005, banjoist extraordinaire Jim Tordoff rejoined the group, making it five-piece again.

In 2007 the Middle Spunk Creek Boys were inducted into the Minnesota Rock and Country Hall of Fame. Later that year, fiddler Ken Sherman started sitting in with the band while Bruce was on sabbatical.

In 2008, Mark and Chuck Kreitzer left the band. Bruce was able to return, Ken Sherman became an Official Member, and the marvelous bass player and songwriter Patti Gilman joined (causing a brief discussion on whether the band name should be changed to the Middle Spunk Creek Middle Aged Persons).

Patti has since left the band (and the state, for that matter) to follow her nursing career and achieve Bigger and Better things; we were lucky to get Janine Kemmer to replace her on bass and the more important job of Keeping the Guys in Line.

Thank you for your kind attention.
---
Middle Spunk Creek Boys Rogues' Gallery

Band Photos through the Years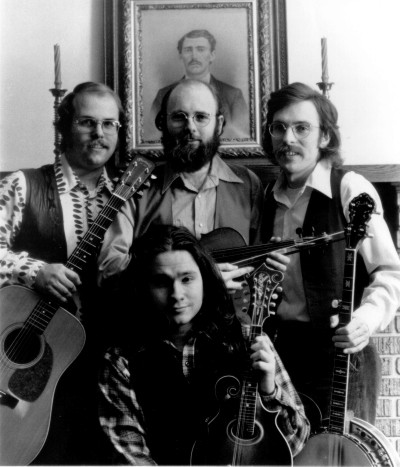 1974 or thereabouts.
Top: Alan Jesperson, Rudy Darling, Alan Struthers
Bottom: Peter Ostroushko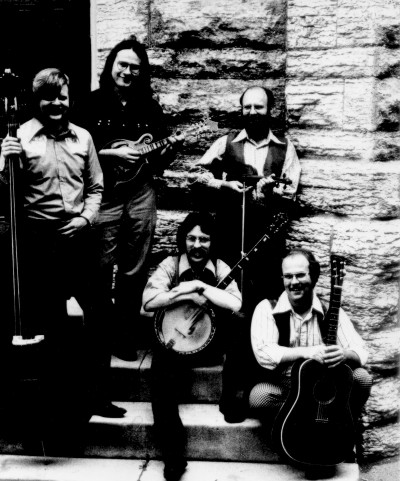 1974 or thereabouts. Left-to-right:
Jerry Flynn, Peter Ostroushko, Alan Struthers, Rudy Darling, Alan Jesperson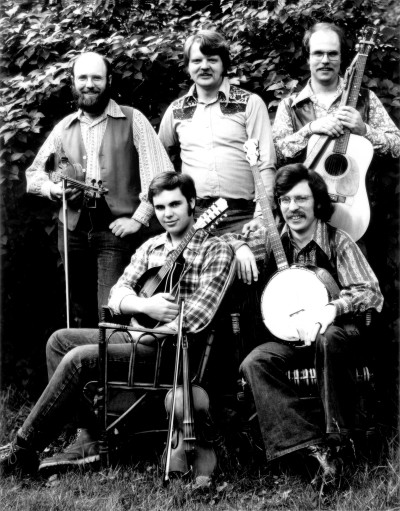 1975 or thereabouts.
Top: Rudy Darling, Jerry Flynn, Alan Jesperson
Bottom: John Niemann, Alan Struthers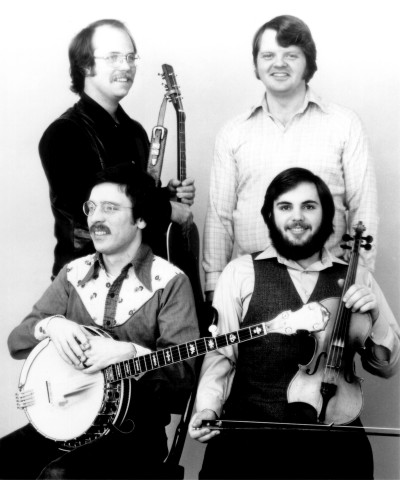 1976 or thereabouts.
Top: Alan Jesperson, Jerry Flynn
Bottom: Alan Struthers, John Niemann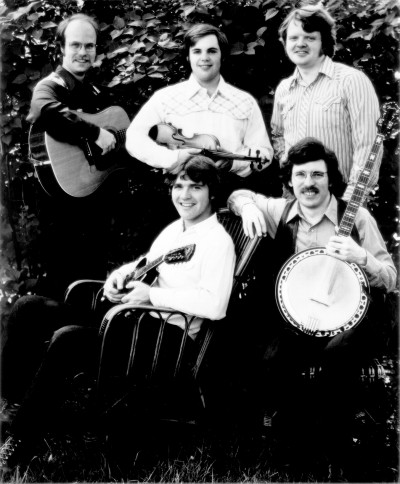 1976 or thereabouts.
Top: Alan Jesperson, John Niemann, Jerry Flynn
Bottom: Mark Briere, Alan Struthers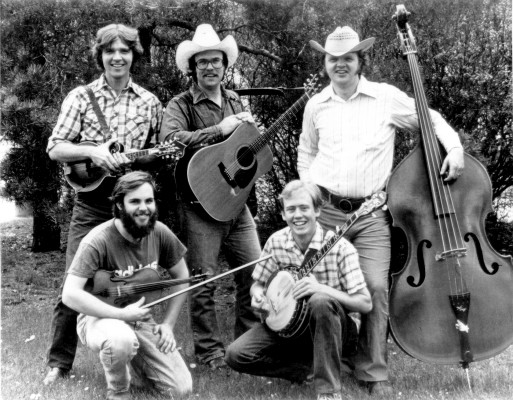 1977 or thereabouts.
Top: Mark Briere, Alan Jesperson, Jerry Flynn
Bottom: John Niemann, Pete Anderson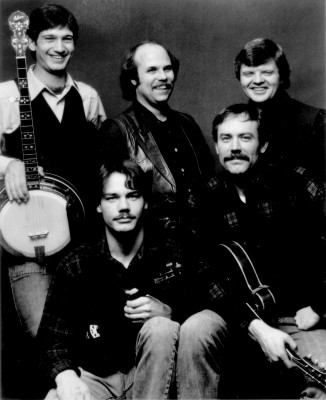 1980 or thereabouts.
Top: Jim Tordoff, Alan Jesperson, Jerry Flynn
Bottom: John Bellville, Rod Bellville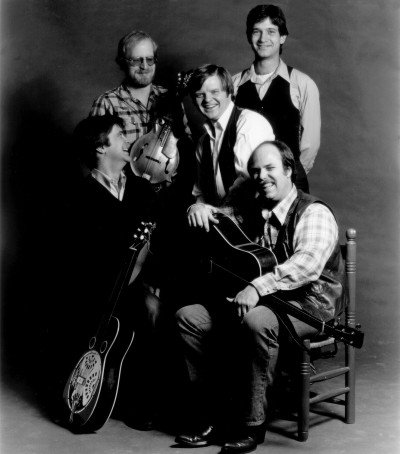 1981 or thereabouts.
Top: Bruce Jaeger, Jim Tordoff
Middle: Andy Kozak, Jerry Flynn
Seated: Alan Jesperson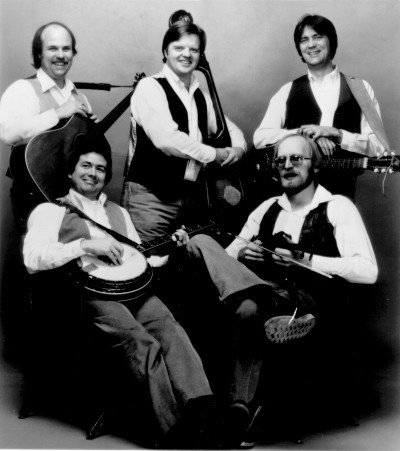 1982 or thereabouts.
Top: Alan Jesperson, Jerry Flynn, Andy Kozak
Seated: Barry St. Mane, Bruce Jaeger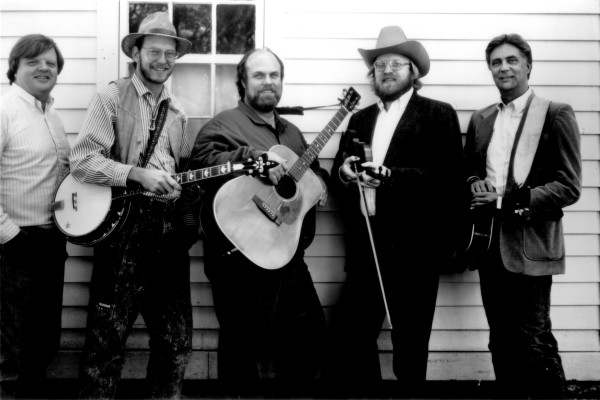 1990 or thereabouts.
Jerry Flynn, Tom Nechville, Alan Jesperson, Bruce Jaeger, Andy Kozak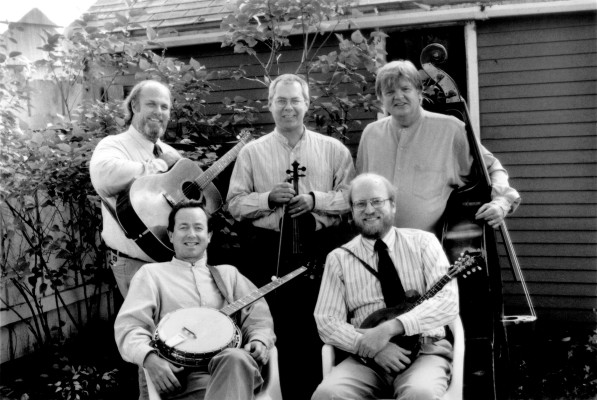 1997 or thereabouts.
Top: Alan Jesperson, Mark Kreitzer, Jerry Flynn
Seated: Barry St. Mane, Bruce Jaeger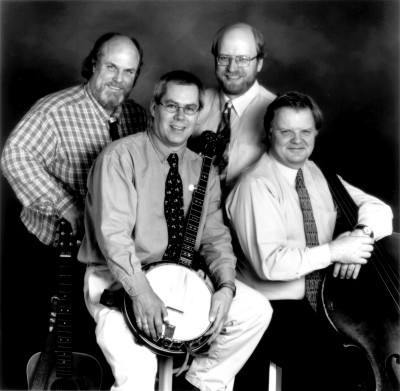 1999 or thereabouts.
Top: Alan Jesperson, Bruce Jaeger
Seated: Mark Kreitzer, Jerry Flynn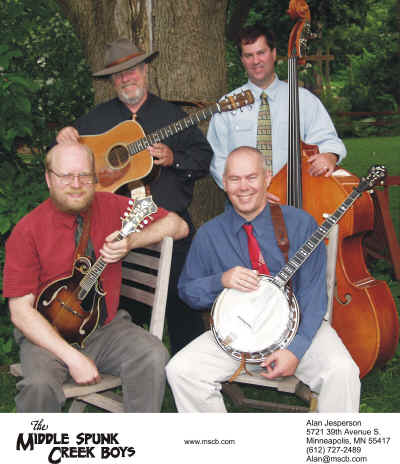 2002
Top: Alan Jesperson, Chuck Kreitzer
Seated: Bruce Jaeger, Mark Kreitzer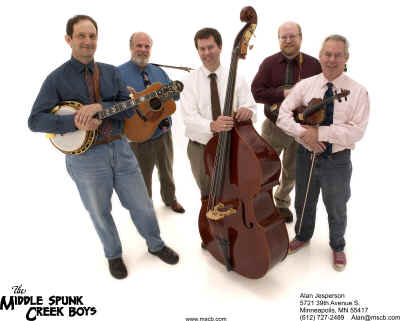 2005
Jim Tordoff, Alan Jesperson, Chuck Kreitzer, Bruce Jaeger, Mark Kreitzer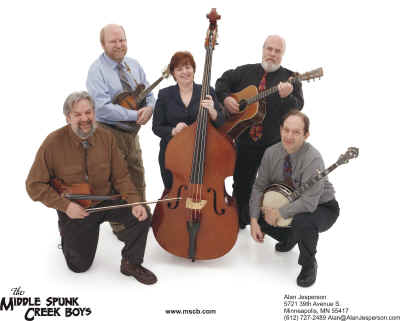 2008
Ken Sherman, Bruce Jaeger, Patti Gilman, Alan Jesperson, Jim Tordoff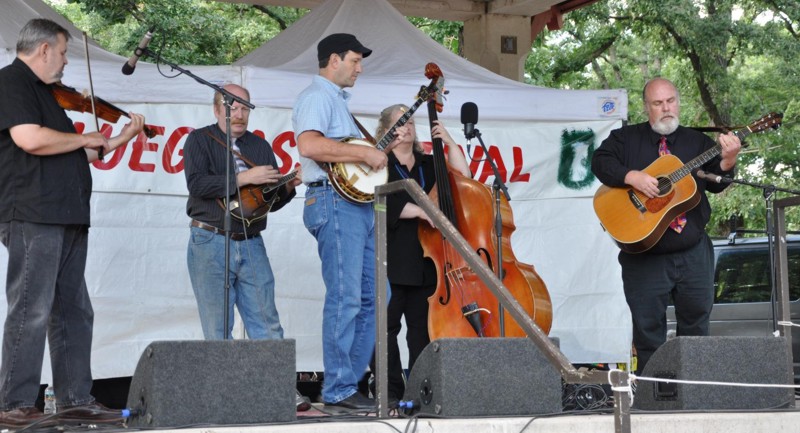 2011
Ken Sherman, Bruce Jaeger, Jim Tordoff, Janine Kemmer, Alan Jesperson

2012 to present
Bruce Jaeger, Joel Olson, Janine Kemmer, Alan Jesperson